MITO LIGHT® Biohacker 2.0
Code:
1-900
Related products
Product detailed description
MITO LIGHT® Biohacker 2.0 is the second most powerful red light therapy device we offer. Thanks to its size, it is able to cover a large part of the body during one therapy. Its size comes with time savings, maximum performance and easy recovery of large muscle parts.
It is equipped with 180 pieces of high-power dual-chip LEDs with an optimal selection of wavelengths, which have two peaks - 660 nm and 850 nm. Both peaks of wavelengths are represented in a ratio of 1:1. This achieves great synergy in the form of red and near-infrared light spectrum.

The generation 2.0 has an improved LED chip technology that provides NO flicker effect.
The package also includes a suspension system, which you can use to hang the device wherever you need. It can be hung vertically on a door or a wall, where it takes up minimum space, it can also be hung horizontally from the ceiling and lowered down with the help of a winch. Imagination has no limits.
MITO LIGHT® devices are designed to deliver light energy in a wide therapeutic spectrum of red (RED) and near-infrared (NIR) radiation. This means that thanks to the LED technology, you can benefit from wavelengths of the red spectrum in the approximate range between 620 nm and 700 nm (with a peak power of 660 nm) and the near-infrared wavelengths between 800 and 880 nm (with a peak power of 850 nm). As a result, your body benefits from a wide therapeutic spectrum of red and near-infrared light.
In the Biohacker 2.0 package you will find: MITO LIGHT® Biohacker 2.0, hanging system, power cable, electricity connection cable, connection system, safety glasses and user manual.
How much of the body does the Biohacker 2.0 illuminate?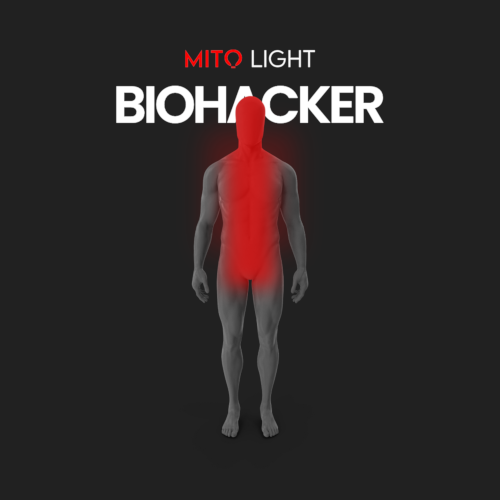 Are you hesitating whether to choose generation 2.0 or 3.0? Read this article to help you decide.
How Does Red Light Therapy Work?
Simply put, red and near-infrared light charges our cellular batteries, which provide energy for the body's function.
We have explained the effects of red light therapy in more detail in this article.
Answers to the most common questions can be found on the FAQ page.
Wavelength Spectrum