MITO LIGHT® Expert 3.0
Code:
2-720
Related products
Product detailed description
MITO LIGHT® Expert 3.0
It has an increased number of 144 high-power LEDs of synergistic red and near-infrared light, which now have four types of wavelengths - 660, 670, 830, 850 nm!
Why are four wavelengths used?
The red and near-infrared spectra now each consist of a combination of two wavelengths. The first two are the "old familiar" wavelengths of 660 nm (red) and 850 nm (near-infrared), proven by practice and science, which are also found in the MITO LIGHT® 2.0 generation. However, we wanted to push the efficiency and effectiveness even further, and therefore investigated in detail the mechanism of light absorption in the mitochondria [R]. Our scientific research has resulted in two new wavelengths with maximum absorption and efficiency - 670 nm (red) and 830 nm (near-infrared). We are convinced that this unique four wavelength combination takes red light therapy to a level never seen before!
The LEDs are in higher density than its predecessor and have a more direct 30-degree lighting angle. As a result, the irradiation power is strong enough even from a longer distance, which allows for more comfortable use.
The generation 3.0 uses only the highest quality LED chip and driver technology, which is flicker-free and therefore does not flicker subliminally during illumination.
Another great new feature is the digital control panel with timer, where you can simply select the light mode - red or near-infrared only or a combination of the two. You then set the desired red light therapy time - when the time is up, the light automatically switches off.
The construction and design have also been greatly improved. The overall dimensions have been increased, the height is 66 cm and the width is 25 cm - a total increase of +19% in overall size! All this is wrapped in a stylish coat in matte black.
The golden mean for those who are serious about red light therapy. The MITO LIGHT® Expert 3.0 combines an affordable price and a medium size. It offers money saving, high performance and ease of use.
Thanks to the hanging system included in the package, you can hang the panel vertically on a door or a wall, or hang it horizontally. You only need 2-3 sessions to illuminate your entire body. And these are exactly the reasons why this model wins with many customers.
It is suitable for therapy of the face and chest, back, arms, shoulders, thighs and much more. You can use it to regenerate muscles, optimize testosterone, thyroid function, reduce inflammation or increase collagen production, which translates into better joint function, better skin and hair quality.
For the best possible effect of the therapy, we recommend using the light for 10 - 20 minutes a day from a distance of approximately 15 - 50 cm.
In the Expert 3.0 package you will find: MITO LIGHT® Expert 3.0, hanging system, power cable, electricity connection cable, control panel connection cable, connection system, safety glasses and user manual.
How much of the body does the Expert 3.0 illuminate?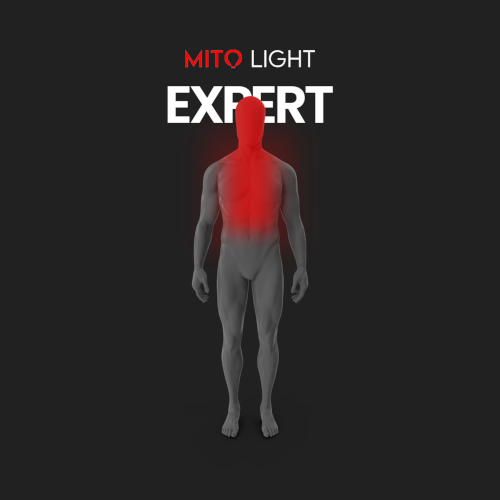 Are you hesitating whether to choose generation 2.0 or 3.0? Read this article to help you decide.
How Does Red Light Therapy Work?
Simply put, red and near-infrared light charges our cellular batteries, which provide energy for the body's function.
We have explained the effects of red light therapy in more detail in this article.
Answers to the most common questions can be found on the FAQ page.
Wavelength Spectrum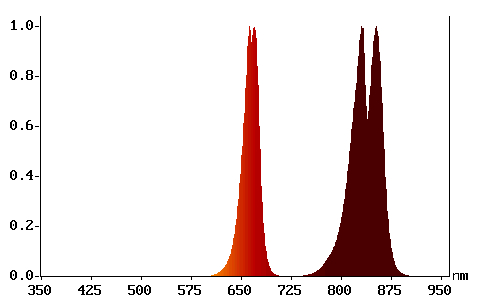 Want to use your panel more comfortably? Check out the new portable stand on wheels - Floor Stand 3.0