MITO LIGHT® Bulb 3.0
Code:
2-54
Related products
Product detailed description
MITO LIGHT® Bulb 3.0 
It has an increased number of 18 high-power LEDs, which now have four wavelengths - 660, 670, 830, 850 nm. Bulb 3.0 therefore has the same unique technology as our generation 3.0 panels.
Why are four wavelengths used?
The red and near-infrared spectra now each consist of a combination of two wavelengths. The first two are the "old familiar" wavelengths of 660 nm (red) and 850 nm (near-infrared), proven by practice and science, which are also found in the MITO LIGHT® 2.0 generation. However, we wanted to push the efficiency and effectiveness even further and therefore investigated in detail the mechanism of light absorption in the mitochondria [R]. Our scientific research has resulted in two new wavelengths with maximum absorption and efficiency - 670 nm (red) and 830 nm (near-infrared). We are convinced that this unique four wavelength combination takes red light therapy to a level never seen before!
It is made of the highest quality materials, which makes the Bulb 3.0 flicker-free, so the LEDs do not flicker during illumination.
The entire construction has also been completely redesigned and is made of durable metal in matte black.
The smaller size is optimal for travel and local therapy of smaller body parts - face, wrist, elbow, knee or even a sore shoulder. For the best possible effect of the therapy we recommend using the light for 10 - 20 minutes a day from a distance of about 15 - 50 cm.
The package includes a power cable with a bulb thread and a switch. This makes it very easy to use without additional devices.
Another advantage of the bulb is that thanks to the classic E27 thread, you can screw it into any lamp and use it as an evening light that does not interfere with your circadian rhythm.
In the Bulb 3.0 package you will find: MITO LIGHT® Bulb 3.0, power cable with a switch, protective goggles, user manual
How much of the body does the Bulb 3.0 illuminate?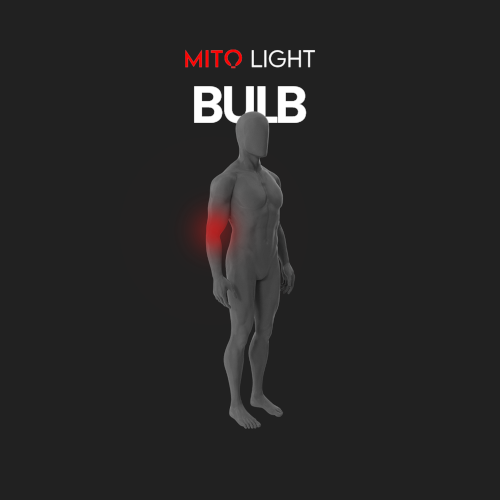 Are you hesitating whether to choose generation 2.0 or 3.0? Read this article to help you decide.
How Does Red Light Therapy Work?
Simply put, red and near-infrared light charges our cellular batteries, which provide energy for the body's function.
We have explained the effects of red light therapy in more detail in this article.
Answers to the most common questions can be found on the FAQ page.
Wavelength Spectrum